Axiom Images News & Updates
First look at Pictorvision's Mini-Eclipse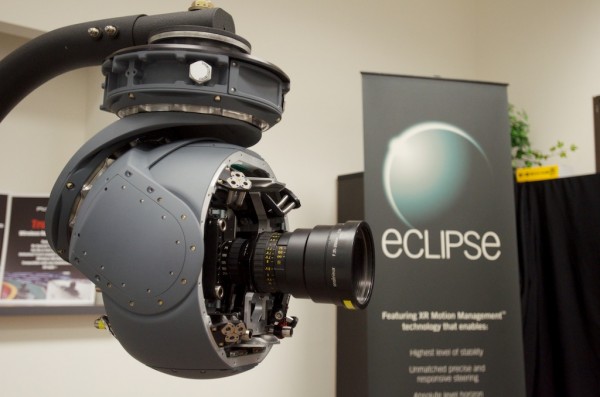 Pictorvision's new Mini-Eclipse
A month ago, we previewed Pictorvision's Mini-Eclipse stabilized aerial and ground gimbal. This afternoon, we were invited to Pictorvision's offices in Van Nuys, CA, to get a closer look at the first Mini-Eclipse prototype, which will be shown at Pictorvision's CineGear booth this weekend.
Full article and more photos after the jump.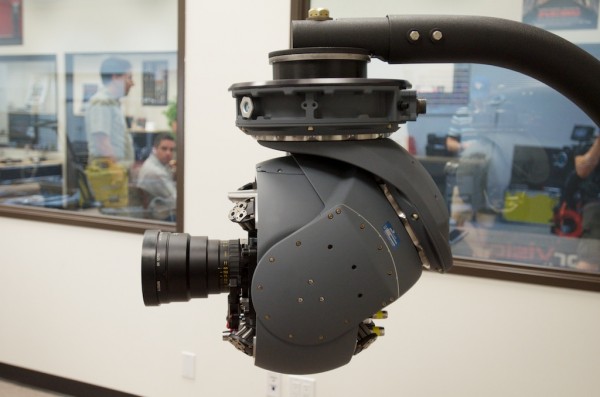 What first struck me about the Mini-Eclipse was its matte finish, reminiscent of a futuristic, sci-fi turret from Robotech or Titanfall. Most modern gimbals utilize a carbon fiber finish that can make it difficult to distinguish them from one another at a distance. In my opinion, the Mini-Eclipse's matte finish looks much cooler, and I hope they use this on the final product.
Visual aesthetics aside, this 16-inch gimbal packs a punch in terms of the technology involved. The engineers I spoke with said that the new stabilization, tagged as "Gen V Stabilization", outperforms Pictorvision's excellent Eclipse system and is only half the size.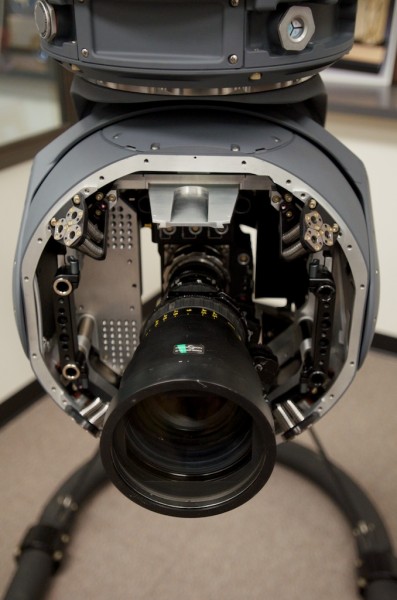 The second aspect that struck me was how much space there seemed to be within the gimbal housing itself. Though the model I was shown was a prototype, it did seem that Pictorvision had succeeded in eliminating the cumbersome and cluttered inner mechanisms that plague other systems on the market. In comparison, the Mini-Eclipse looks user friendly. I could easily visualize common tasks such as changing lenses, changing cameras, adjusting balance, swapping media and readjusting settings on the body.
The camera and lens sit on a standard Arri dovetail. The inner package that holds it sits on another. This gives you the ability to swap camera and lenses immediately, or you can pull out the entire kit and balance it on a table. Pictorvision's target time for swapping lenses is under 10 minutes, and possibly a complete camera and lens swap in 30 minutes or less.
The circuit boards and wiring are conveniently placed around the system's shell, which frees up space inside the shell. It was hard to imagine how all those boards fit inside so neatly. The engineers informed me that 3D printing was utilized to give the layout a clean and elegant look. It was clearly designed for technicians to reach inside the unit when required.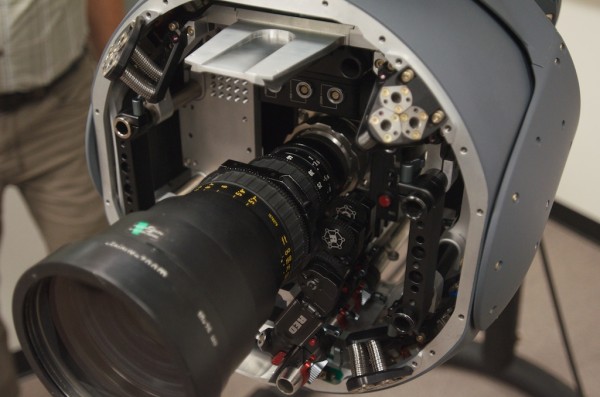 One of my biggest complaints about many of the gimbals on the market is that the accessibility to the camera and lens always seemed to be a design afterthought. This is a huge problem in today's Digital Cinema market, where new cameras and lenses are constantly being introduced to the marketplace. There have never been so many Super 35 cameras and lenses on the market at one time before. To restrict yourself to one system compatible with just a few of these new cameras and lenses seems like a foolish oversight. Pictorvision has avoided this pitfall in a few different ways thanks to their vast field production experience with the Eclipse and Wescam.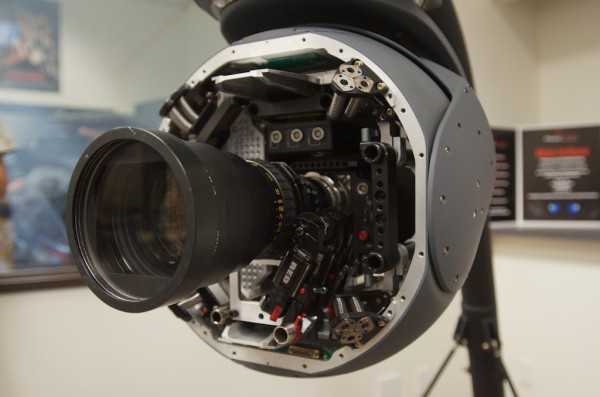 The Mini-Eclipse, pictured here with a Red Epic and a 25-250 Angenieux HR, one of the more compact payload options, can be fitted with side-arm extensions that lower the gimbal, which allows for longer and larger payloads. Pictorvision confirmed that they would be able to mount the 24-290/28-340 Angenieuxs, as well as the new 25-300 Fuji. The Mini-Eclipse's side-arm extensions are fully backwards compatible with smaller payloads. You would only need one option on an average aerial production.
Also pictured inside the Mini-Eclipse is the Red W.M.D. (Wireless Motor Drive) connected to Red's lens motors. This pairing is ideal when filming with an Epic or Dragon due to W.M.D's ability to embed lens metadata into Red's Raw files, which is a common request for VFX shots.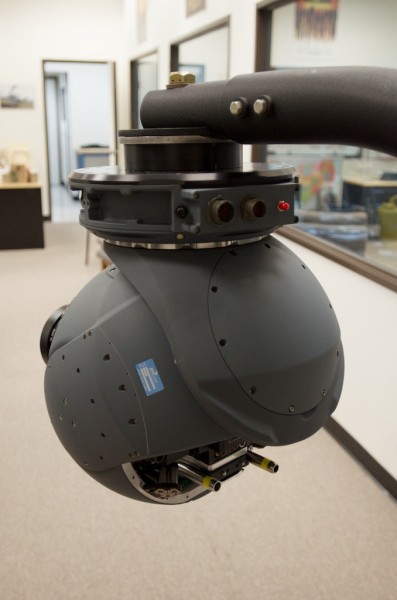 Rear View of the Mini-Eclipse
With an estimated weight of 75 lbs, the Mini-Eclipse will be one of the lighter gimbals on the market. The advantage of a lighter weight gimbal is that they are more cost effect to ship, and are also compatible with most aircraft brackets, such as the Single Pole Mount.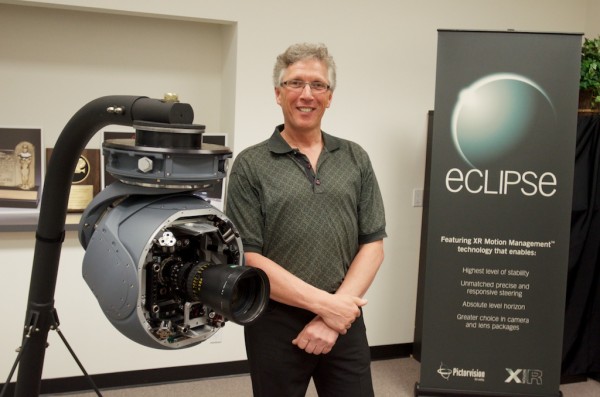 Mark Chamberlain Pictorvision CEO with the Mini-Eclipse
Pictorvision informed me that the system was scalable, and that other sizes may potentially be offered. Currently, the Eclipse, Spacecam and Wescam are 36-inch gimbals.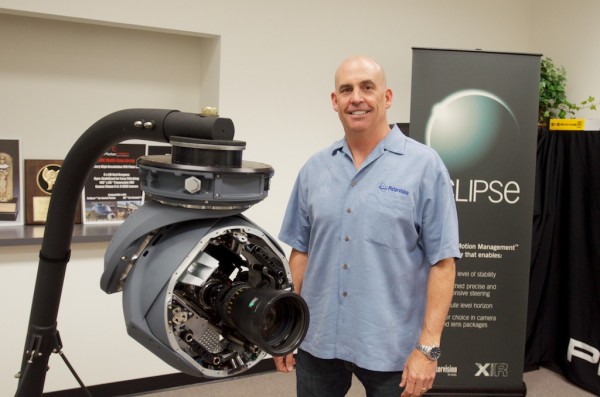 Tom Hallman Pictorvision President with the Mini-Eclipse
The gimbal's versatility and light weight make it ideal for not only aerial usage, but for ground usage as well. The most critical criteria for ground use is setup time… a criteria that the Mini-Eclipse seems to have met.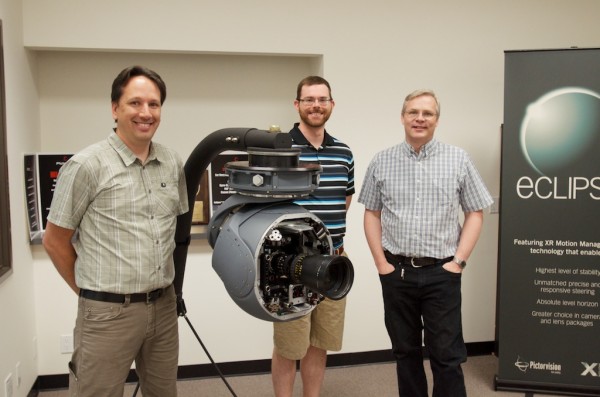 From left to right - Marcel Verner, Brian Perry and Mike Lewis CTO of PV Labs
The Pictorvision and PV-Labs teams were excited to show off their latest innovation, and their enthusiasm was contagious. Given the proposed capabilities of the systems, satisfying a variety of needs ranging from cinema to ENG and ground head work, I shared their enthusiasm.
The estimated delivery date for the cinema/video version of the Mini-Eclipse is Q1 2015. If you want to learn more, please visit Pictorvision's website, or drop by their booth at CineGear this weekend.
June 6, 2014

Grab Our RSS Feed
Keep up with every update by saving our
feed
to your browser or feed reader.